If Your Vehicle Has A Bad Odour, You've Come To The Right Place
Eliminate unpleasant odours with ease!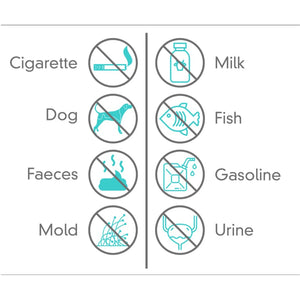 Whether you have a car that reeks of cigarette smoke or like a dog that's been swimming in a swamp, AirVidox will eliminate the odours completely. Visit our shop to purchase AirVidox today.
SHOP
How it works
1. Clean Interior
AirVidox is highly effective at removing odours but it's important to clean your vehicles interior beforehand to remove any physical odour sources. We offer interior cleaning products on our webshop to make the removal of physical dirt and oils easy.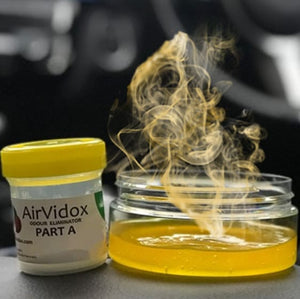 2. Treat With AirVidox
Once the interior of your vehicle has been cleaned, it's time to use AirVidox to remove the remaining odours. Place the AirVidox jar in your vehicle, close all doors and leave for 8 hours. AirVIdox is safe to use in both cloth and leather vehicle interiors.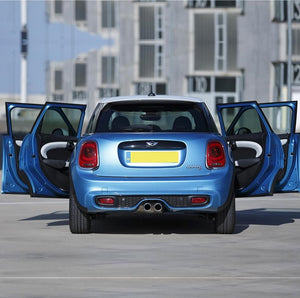 3. Air Out The Car
After 8 hours, open the vehicle doors and let the car air out for 10 minutes. The car odours will be gone! AirVidox leaves no harmful residue and you can use the vehicle straight away. Try our luxury car fragrances to make your vehicle smell extraordinary!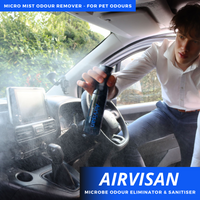 AirVisan Microbe Odour Eliminator & Sanitiser
Ideal for pet and urine odour.
Emits a fine fog, sanitising & neutralising odours on exposed interior surfaces of the vehicle. Safe for use around pets.
Buy Now
NEW | Virus & Bacteria Eliminator
Our AirVidox Virus & Bacteria Eliminator sanitises your vehicle in a single treatment. It releases a chlorine dioxide gas into the vehicle which sanitises the air and surfaces. No need to wipe your car down beforehand and risk getting ill. 
Buy Now
What Our Customers Have Said
Tried the AirVidox product 2 weeks ago on the second hand car that reeked of wet dog. Neither my wife or I can smell the dog smell anymore. Fantastic product. 5*****.
See our TrustPilot reviews. 

Mr Shoff - Reviewed on Trustpilot
We valeted the vehicle 5 times but nothing would remove the smell of the cigar smoke smell in our clients vehicle. We tried AirVidox and it took the smell out completely. Our customer was very pleased. Thank you.

Martin - Pro valeter at Lamborghini Sevenoaks
Used in a car that had been smoked in everyday for 14 years.....it worked...no cigarette smoke smell now...amazing! I would also recommend their fragrances because they smell lovely!
See our TrustPilot reviews. 

Tracey C - Reviewed on Trustpilot
Location
Contact Us:
Please contact us for commercial orders or general enquiries.
Mon - Sat, 9am - 5pm
E: enquiries@airvive.co.uk
T: 020 4568 8258
Our Address:
AirVive - Suite 116
Capital Business Centre
South Croydon 
CR2 0BS